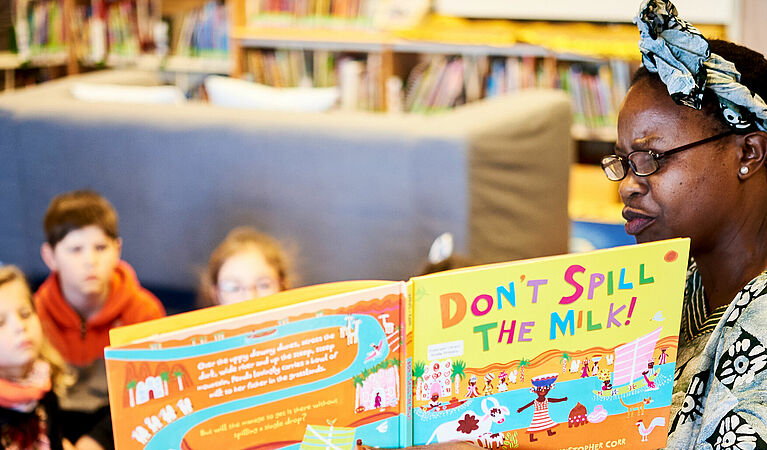 Current Vacancies
Current vacancies of the Vienna International School are always advertised here, on the VIS page of Schrole Connect, and in professional publications, as appropriate.
Please note
The specific recruiting process is described directly below the advertised vacancy.
In general, Vienna International School utilizes Schrole Connect to manage all teaching applications, therefore all applicants for teaching positions are requested to follow this link.
For specific questions that are not answered in this section, please contact Human Resources by sending an email to recruiting[at]vis.ac.at. To make communication more effective, please state the name of the position and you are applying for, and your name, in the subject line. Thank you.
Join our Admin team as:
______________________________________________________________________________________________
Accounts Payable Accountant - (m/f/d)
The Accounts Payable Accountant is a member of the VIS Finance Team and provides all tasks related to Accounts Payable and Liability Accounting.

The detailed job description can be viewed here.
Please find info about the application process here.
Direct link to our online application system: https://forms.gle/hojKFXRR7qsaJmbe6
_______________________________________________________________________________________________
For an informal conversation about this vacant position, if you are experiencing difficulties with submitting your application online, or if you have any additional queries, please contact our HR Team at recruiting(at)vis.ac.at. Please state the position title in the subject line of your Email!
Thank you!
We are looking forward to receiving your application!
December 2023
Academic year 2023/24:
Thank you for your interest; our team is complete at the moment.
_____________________________________________________________________________________________
For the academic year 2024/25, we will start recruiting mid-December; vacancies will be posted here and on Schrole Connect.
To get information about future vacancies, please sign up for our 'VIS Job Alert'; you will get notified via email when a new position opens.
As of the 2nd semester, so as of February 2024, we will again be looking for talented individuals who are:
- interested in replacing a classified employee who is temporarily absent from duty or
- interested in supporting and/or supervising students during assessments and exams.
We are looking for people who are interested in at least one of the following roles:
Substitute teachers (teaching qualification required!) and
Substitutes for Educational Support Staff - are covering for absent colleagues and are supporting our students directly in the classroom or gyms.
Temporary Helpers - are mainly supporting the Maintaince-, Finance and IT departments during the summer holidays, or are covering for longer absences in the school offices.
Invigilators
Readers and Scribes - 'Amanuensis' - are supporting students (aged 12-18) during their assessments by writing down the dictated response from the student in various subjects. Currently, we are looking for native speakers or someone on at least C1 (CEFR) level to scribe in the following languages: German, English, Spanish, and French. Ideally, you would either be a university student, or have a degree in any subject taught at school (humanities, sciences, mathematics, and languages). Irregular duties, often only for 1 - 2 periods (40-80 min) during the regular school day.
Our Substitutes and Occasional Helpers are called in as needed and are paid on a per hour or per lesson basis. There is no obligation to accept the work offered and no obligation by VIS to offer work.
Requirements:
motivation to work in an educational environment, and or prior experience working with students or children
a willingness to work flexible hours, on an irregular basis
a valid residence permit / work permit for Non-EU citizens
teaching qualifications if you are interested in joining our Substitute Teacher team
If you are interested in one or more of the roles mentioned above, please check in again - as of February 2024 we will be sharing a link to our online application tool for occasional work, together with further information.
(We ask for your understanding that our Selection-Teams will not have time resources to process applications that are submitted between Mid-December and end of January; we would therefore kindly ask you to send your application at the start of the second semester, so in February. Thank you!).
Please indicate if you are interested in Primary or Secondary school or both - Primary School students: aged 3 to 11; Secondary School Students aged 12 to 18.
If you are interested
Please send us your application letter, CV and certificates as one attachment only, in pdf-format.
Please don't paste text in the Email directly; we are only reviewing the attached file
Please state your name and 'Substitution' or ;Occasional work' in the subject line
Please mention in the cover letter which of the roles mentioned above you would be interested in
Thank you!
We are looking forward to receiving your application in 2024!
Sign up for our Job Alert
If you are interested in working at the Vienna International School, we encourage you to sign up for our Job Alert below. You will get notified via email when a new position opens.