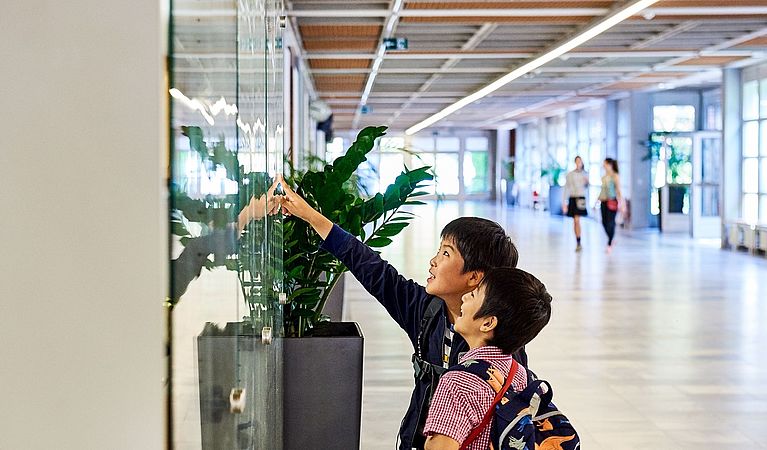 Mother Tongue Programme
VIS was a pioneer amongst international schools in recognizing the importance of additive bilingualism - that is, the continuing development of our students' home languages while at the same time learning the school language of English. A large number of research studies show very clearly that bilingualism can increase children's language abilities and help their progress in school.
Both the Primary and Secondary schools at VIS are truly international in that the majority of our students speak a language other than English as their first language. Mother Tongue lessons in a wide range of languages are facilitated by our Mother Tongue Coordinators. At the moment, approximately 20% of all students in both schools are enrolled in Mother Tongue lessons.
A wonderful asset in both schools is also the international book collection in the libraries. For example, the Primary school offers over 3000 books in 60 different languages.
Mother Tongue lessons are available:
to all students from GP-G12
usually once week after school for Primary School children
as many times per week as negotiated with the teacher for Secondary School students
taught by suitable private teachers for individual or small-group lessons
at a cost according to the size of the group and determined by the private teacher
in addition to the Mother Tongue lessons, Latin lessons are available as well.
Approximately 10-20% of all International Baccalaureate (IB) Diploma level students at VIS take their Mother Tongue as part of their IB Diploma Programme. For further information please see Mother Tongue in the IB Diploma Programme.
Some of the Languages offered include:
Albanian, Amharic, Arabic, Armenian, Bosnian, Bahasa Melayu, Bulgarian, Chinese, Croatian, Czech, Danish, Dutch, Finnish, French, German, Greek, Hebrew, Hindi, Hungarian, Indonesian, Italian, Japanese, Korean, Macedonian, Malayalam, Mongolian, Nepali, Persian, Polish, Portuguese, Romanian, Russian, Serbian, Slovak, Slovenian, Spanish, Swahili, Swedish, Turkish and Urdu.
Primary School:
Grade Primary - Grade 5: pypmothertongue(at)vis.ac.at
Secondary School:
Grade 6 - Grade 10: mypmothertongue(at)vis.ac.at
Grade 11 - Grade 12: dpmothertongue(at)vis.ac.at