The Medical Department is open from Monday to Friday from 8:30 to 18:00. You can reach us via email medicaldepartment(at)vis.ac.at or phone: +43 1 203 55 95/338.
Vienna has a new hospital. The Vienna North Hospital (Krankenhaus Nord) went into partial operation on 3 June 2019. In autumn 2019, the hospital will go into full operation. It is an important step in reconstructing the Viennese hospital landscape. The hospital will be one of seven specialized public hospitals in Vienna. Establishing a partly new set of priorities in the other hospitals combined with gradually, shifting three existing hospitals and individual departments from their present location to the Vienna North Hospital is improving the health care services significantly. It has almost 800 beds in single and double rooms.
Among different departments there will be an Emergency/After Hour Care, an Accident Clinic and a Children's Clinic open 24/7!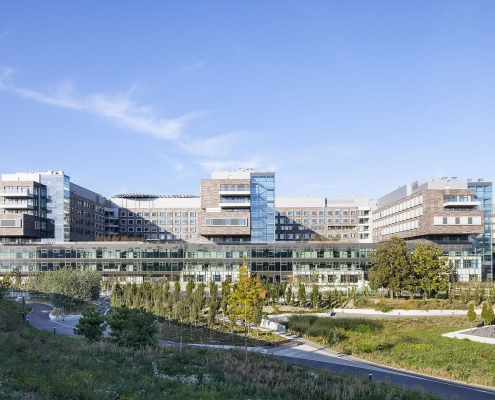 Contact
SCHOOL DOCTOR

Alexandra Stoessl

available: Monday, Tuesday and Wednesday from 8:45 - 14:45
Tel.Ext.: 354
Please note that it is necessary to send an email to arrange a time for any personal appointments: astoessl(at)vis.ac.at

SCHOOL NURSE

Silvia Irby

available: Monday to Friday from 8:30 - 15:00 (Lunchbreak 13:10-13:40)
Tel.Ext.: 338

AFTER SCHOOL NURSE

Juliana Sommer

available: Monday to Friday from 15:00 - 18:00
Tel.Ext.: 338
---
---
Our school doctor and our school nurses are there for your child/ren to provide the following medical services:
provide regular screening and preventive services,
provide health education and information about preventive measures
liaise with parents, teachers, counseling departments, Austrian Health authorities and the VIS Health and Safety team regarding health and safety questions at school
support students in school with chronic health conditions (e.g. allergies, ADHD, Diabetes mellitus, seizures, migraines,…).
attend acute illnesses, injuries and emergencies that arise during the school day (first aid) and advice parents and students if further medical management is necessary by medical professionals/ medical services outside school
On occasion the school doctor is providing seminars on relevant medical topics. Please feel welcome to join.
Please note:
In case of any injuries or illnesses your child has to be seen and treated by your general practitioner (GP) or pediatrician.
Any health problems occurring outside school hours (weekends, school holidays, after school hours..) have to be attended and followed up by your GP or pediatrician.
Please be aware that the school medical services are not a GP´s office. According to Austrian law, the school medical department provides preventive measures and First Aidmainly. Extensive examinations, diagnostics (e.g. X- ray ), therapeutic services and treatments are not within the scope of practice. Thus, handing out prescriptions or referrals to medical specialists is not permitted. Unfortunately we cannot provide these services.
Please remember that if your child is well enough to come to school, then he/she is expected to participate in all school activities (i.e. outdoor recess, PE lessons, etc).
VIS cannot provide the service of vaccinations in school. You will find the regularly updated Austrian vaccination scheme and a list of vaccination centers in Vienna below.
Students should not attend school if they show:
Fever: If your child has a fever, even without any other accompanying symptoms, he/she should not return to school until at least 24 hours without a fever and without the use of fever medication.
Diarrhea and/or Vomiting
Any skin rash associated with fever
Child feeling unwell, unable to fully participate in all activities
A communicable disease, this includes eg. Chicken pox, fifth disease, Mononucleosis, Measles, Rubella, Mumps, Scarlet fever, Impetigo, acute contagious conjunctivitis, ("pink eye") – further information please see below.
Head Lice: Please note that students with lice or nits are not allowed in school! They need a certificate from the GP (family doctor), pediatrician or the Bezirksgesundheitsamt MA 15 (for eg. 22. Districtit is , Siebeckstrasse 7/3) that the child is free of headlice and nits before returning back to school.
The above are a few examples – if you are unsure if your child is allowed to attend school with a certain medical condition please contact your family doctor for advice before sending your child to school.
Important medical information for parents
Seminars