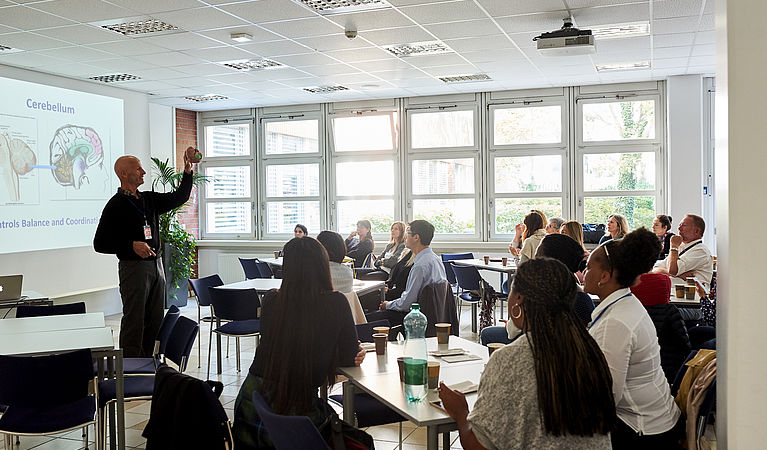 Professional Development
Professional Development is vital to the continuing advancement and enrichment of learning and teaching, because education, teaching and learning are changing almost daily. To keep pace with these changes, educators need timely and relevant professional learning. This learning will bring to fruition the our vision of "inquiring, inspired and involved". Effective schools are "learning communities", the core element of which is a culture of collaboration and collective responsibility amongst staff for improving student learning. Developing a learning community "culture" is a priority in our school's long term strategic and human resource planning. The role of the educator has become complex and changeable. The collective thinking and wisdom available within "learning teams" addresses complexity and deals with new issues and uncertainty. The formation of learning teams is a key strategy for effective professional learning and integral to the development of a "professional" learning community within a school. The role of continuing professional development for staff is crucial to ensuring that the journey through school self-evaluation to school improvement addresses priorities identified through the self-evaluation, and enhances the quality of student learning.
Vienna International School (VIS) is pleased to again offer official IB professional development workshops. These workshops follow all guidelines as outlined by the IB and use highly experienced IB workshop leaders. You will receive an official IB certificate of attendance upon completion of your workshop. If you have any queries, please contact the PYP coordinator by sending an email to kdalton(at)vis.ac.at.
Workshops for the 2022-23 academic year
Leading and Managing Teams (August 16-18 2022)
This workshop is for leaders across all IB programmes and is recommended for programme and subject coordinators, librarians, or team leaders at any level of leadership. In this workshop leaders explore how to lead and manage a multitude of teams and team structures in their context. Leaders inquiry into how to maximize team learning that results in positive outcomes throughout the IB World School.
Making the PYP Happen – Implementing Agency (September 8-10 2022)
This workshop is for all PYP teachers (early years, Primary Years, new to PYP and with some experience of the PYP). This workshop invites you to inquire into your own teaching practices and reflect on how you can develop the capabilities of a PYP teacher. By exploring the PYP framework, you will connect how voice, choice and ownership is recognized and developed in all members of the IB community. You will be supported in your understanding of learning and teacher in a transdisciplinary, concept-driven curriculum and how to design this in your own school context.
The role of Language (October 6-8 2022)
This workshop is for all PYP classroom teachers. All teachers are teachers of language. The PYP views all languages as equally important. This includes the language of instruction, mother tongue, English as a second language (ESL) English as an additional language (EAL) and host-country languages. This workshop explores the fluid nature of language learning as a continuum, not developmentally tied to an age or stage. You will examine the varying roles of language teachers in advising, supporting or integrating language inn the programme of inquiry or in a single subject. You will look at the importance of learning language. You will be guided in the development of a language policy.
Investigating inquiry (October 6-8 2022)
This workshop is recommended for all educators: teachers, coordinators, leaders at any point in their journey as life-long learners.How can we support student inquiry? Students' own curiosity provides the most effective provocation for learning that is engaging, relevant, challenging and significant.
The role of Mathematics (October 20-22 2022)
This workshop is for all PYP classroom teachers and will consider the following questions: How is mathematics taught using an inquiry approach? How is mathematics addressed within and outside of the context of the programme of inquiry? How do learners construct and transfer meaning and then apply with understanding? The aim of this workshop is to provide participants with the skills, knowledge and ideas needed to successfully address the teaching and learning of mathematics within the context of their educational setting. Teachers will have an opportunity to discuss the teaching and learning of mathematics, share resources and work on relevant curriculum documentation.