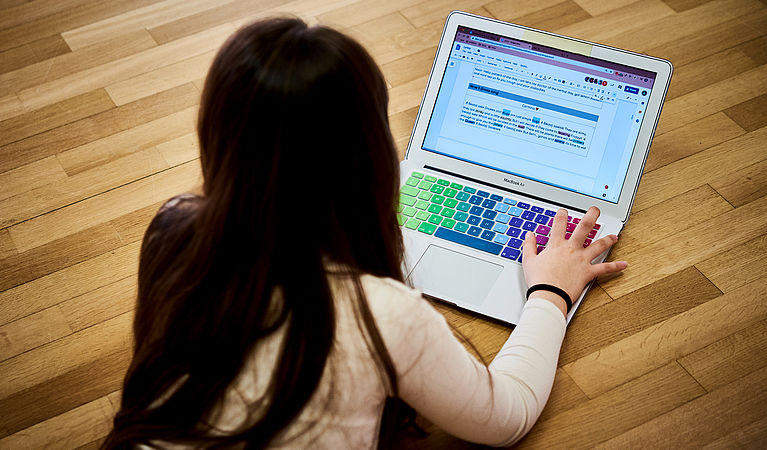 School Year 2020-2021 and Community Safety
Vienna International School is closely monitoring the COVID-19 outbreak and bases its Teaching and Learning programme on the level of risk currently determined by the local authorities, following the Traffic Light structure.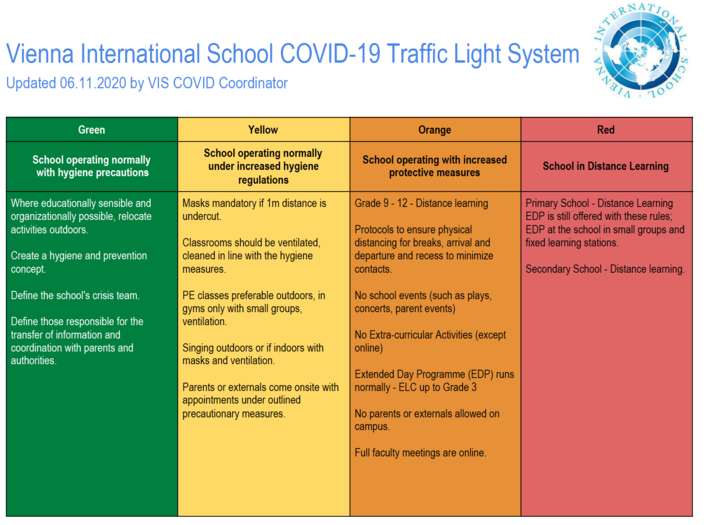 The local authorities and the educational ministry announced that due to the rising numbers of positive COVID-19 cases, schools are required to shift to a Distance Learning programme. Monday, November 16 has been declared a transition day. From Tuesday, November 17, all grades will be on Distance Learning education. Distance Learning is in effect until December 6, unless otherwise stated by the government.
While all Austrian schools are closed for onsite teaching and it is imperative for everyone's safety to reduce contact among people in Austria at this time, there is a supervision possibility for students in ELC - Grade 8 that require it. The School has asked the parents and guardians to inform of the existing need for child supervision during the lockdown time, in order to plan the staffing accordingly.
What is happening on Monday, 16 November?
Primary School - All Primary School students will attend school as normal tomorrow. We will use the day to prepare the students by discussing their schedule, reviewing agreements for engagement and behaviour, and ensuring they have all the materials they need to begin Distance Learning the following day.
Secondary School - On Monday, 16th of November, there will be online transition classes for students in Grades 6-8 as we prepare for the move to full Distance Learning. No new material will be taught in these lessons. Students in Grades 9-12 will continue with Distance Learning as normal. Collection time for materials is from 15:30 to 17:00 (Monday - Thursday) for any students who need to get belongings from lockers or other items in the Secondary Office.
What will Distance Learning look like?
Primary School - A limited Distance Learning Programme for Primary School will commence on Tuesday, 17 November with students accessing the Digital Resource Websites to allow teachers to transition to the Distance Learning programme. The full Distance Learning programme and timetable will begin on Wednesday, November 18th. An overview of the Primary School Distance Learning Programme has been prepared for parents and will be explained to students as part of their transition.
Secondary School - All Secondary students are following the Distance Learning Guidelines for Students provided by the School. If there are any questions or challenges with Distance Learning, students are encouraged to contact their Homeroom Teacher/Advisor or Grade Level Leader.
Other Information
Parent Teacher Conferences scheduled for Thursday, 19 November will take place online, as planned.
The Extra-Curricular Programmes have been suspended until further notice and, where possible, moved online (Mother Tongue, VISMA instruments).
For the students requiring supervision during 17 November - 6 December: If attending, students will need to bring a laptop/iPad and headphones so they can join their class activities as they would if they were home. Lunch is available for purchase, however the bus service will not be available. No Extended Day Programme will be available at this time for Primary School students.
To preserve the community's mental well-being at this time, the VIS counselors created the VIS Wellbeing website.
The COVID Management Committee continues to follow closely the COVID-19 situation and remains vigilant in making sure that the Traffic Light system regulations are properly implemented in school.
The whole school, including Grades 9 to 12, are expected to return to on-campus learning in 7 December, dependent on future guidance from Austrian authorities. We understand that the education and social connection gained from a face-to-face, lively school environment is fundamental to the social and emotional growth of our students and therefore we have a responsibility to do what we can to support student and staff welfare and to continue learning on the school premises as best we can and for as long as possible. We have been successful to date due to the collective effort, positivity and mutual support of our community and for that we are grateful. Once again, we thank you for your support and understanding through this unparalleled time.
Take care, and stay safe.
Vienna International School